Tombreck
In November I travelled up to a beautiful farm on the shores of Loch Tay, Aberfeldy, Perthshire to work with a lovely lady Sue and her Highland pony Millie. The object of my time with Sue was to have Millie pulling safely so she could be used for work on the farm. Part of the farm has some beautiful areas of ancient Oak coppice that are due for restoration and it is hoped that Millie will be able to assist with the work. Millie had been used for riding up on hillsides around the farm and Sue had done some long reining work with her so we had somewhere good to start from. We began by spending some time trying to make the cobbled together harness fit as well as possible. Once Sue was sure that Millie would be able to pull successfully she would purchase a set of webbing harness but in the meantime we worked with what was available, fine for what we were planning to do over the next few days.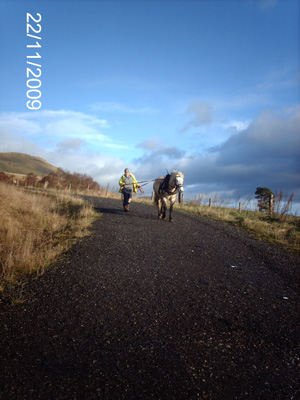 Sue and Millie working together
We began with more long reining putting in place the commands Sue was going to use and making sure Millie had a good 'stop' button. To be fair Millie was excellent at stopping even when she was unsure of what we were asking her to do, always helpful. She was a good listener. As we progressed Sue's partner came and helped and gamely hung on to the traces so Millie could get used to pressure on the collar etc and start getting the idea of pulling. We moved on the whipple tree and chains rattling around behind her as well and once we felt she was ready attached a small tyre to the whipple tree. I won't go into all the details but we spent 4 quite intense days working hard but patiently with Millie and by the time we got to the end of our time together she was pulling timber out in the fields. I hope that Sue and Millie will now be able to build on our time together and work towards restoring that beautiful woodland.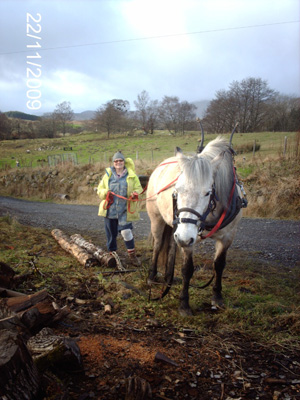 Sue, Millie and the timber reach the stack site successfully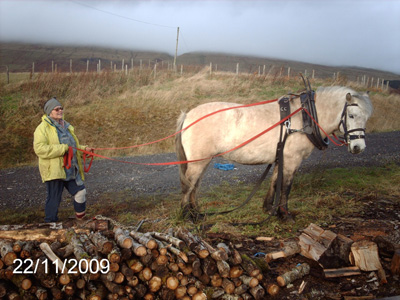 Looking relaxed together