Timber extraction
This service offered is ideally suited to environmentally sensitive areas, wet or steep sites where mechanical extraction is not welcome or cannot access without excessive damage. It can however work efficiently alongside a tractor operation if necessary.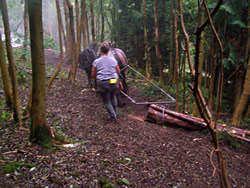 The use of horses can minimise damage to existing crops, coppiced stools and areas of regeneration. In addition it reduces compaction and damage to the woodland floor whilst bringing no pollution from fossil fuels. As they also have the ability to work in small areas felling to provide an extraction route can be kept to a minimum if needed at all.
Horse logging offers an efficient, flexible approach to timber extraction and with the wide range of both traditional and modern equipment available it has much to offer the woodland owner. The horses can work through the full range of woodland operations from first thinings through to the final crop. They also provide a sympathetic tool for the management of ancient woodland and archaeologically important sites.
The horses work in long gears and with a timber arch though a forwarder and other larger equipment is available if required. Kate is happy to consider both small and larger contracts, bringing in and working alongside colleagues where necessary and therefore being in a position to offer a full range of extraction methods. All ensure a low impact environmentally whilst remaining a competitive option to woodland owners.